Michael J. Critelli has had three distinct careers: as a Pitney Bowes executive; as an entrepreneur running a personal health management system business; and, as a feature film producer.
As Pitney Bowes' CEO between 1996 and 2007, he transformed the Company into a global mailstream solutions company. He also led the Mailing Industry CEO Council in driving comprehensive postal reform. He has 15 U.S. patents.
He also pioneered a employer-sponsored health care programs profiled in a January, 2009, Harvard Business School case study.  He has chaired public-private initiatives in transportation, sustainability, education, and community development.
Since December 2010, he has led the Dossia Service Corporation, which empowers consumers to manage their health and healthcare by providing online personal health management systems.
He is a member of the boards of Eaton Corporation and of ProHealth Physicians, a physician-owned professional services organization, and several for-profit and not-for-profit advisory boards. He publishes a blog at www.mikecritelli.com.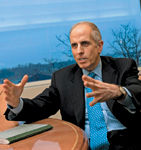 He served 13 years on the National Urban League and Catalyst boards, and has received many awards for leadership development, diversity, and inclusion. He found and developed the story of Dr. Catana Starks of Tennessee State University, the first black woman to coach a men's college athletic team. He made the decision to produce From the Rough and cause it to be theatrically released, because Coach Starks is the everyday inspiring leader that is given far too little recognition, especially since one of the young athletes and students she touched had a life-changing effect on the life of his younger son.
He graduated from the University of Wisconsin with a B.A. (1970) and received a J.D. from the Harvard Law School (1974), and was a Fellow in the Harvard Advanced Leadership Program (2010-2011.)